Choosing the Right Ring
When it comes to choosing an engagement or wedding ring, it can feel like the stakes are very high! You have to settle on just one design that you'll see everyday and love years later.
What style of ring best reflects you? What do you need to know when choosing an engagement ring?
Joanna from Jorgensen Studio has quite a few tips to help you answer some of these questions. Joanna is a Kentucky based jeweler who makes artistic and vintage style rings.
I'm excited to share with you a little bit of her knowledge and advice about what you need to know when choosing an engagement ring!
Joanna's work (click the images for more):
About Joanna
I hand make jewelry in sterling silver and gold. My work has a vintage style with quite a bit of pattern and texture. I started my focus on promise rings about seven years ago and have incorporated non-traditional engagement rings wedding bands and other casual jewelry to my shop.
I use traditional bench techniques in fabrication and lost wax casting to make all of pieces from scratch. A large part of my business is working with customers on custom pieces, which is probably my favorite part.
Pro definition:
Bench technique–a variety of artisan jewelry making techniques rather than mass produced techniques.
How did you get started with your business?
I started my artistic life as a potter, working in clay. The "metal clay" in silver was introduced and I was intrigued as to how this new clay worked.
I took some classes, but could not get it to do what I hand in my minds eye. It was a very limited medium at that time, so I took traditional jewelry fabrication classes at the Boca Raton Museum School and I was hooked. From there I took different workshops at Arrowmont and with other jewelry makers to learn new skills. It's been a process of practice and patience to be able to create something I see in my mind's eye.
What is the basic process you go through to make an engagement ring?
It really depends on the piece. Some are fabricated and some are cast.
With a fabricated piece the individual parts of the ring are made and then fitted and soldered together. Then the piece is polished, cleaned, tumbled and finally set with the gemstone. This process is all about hand work. Sawing, filing, and shaping pieces of metal by hand to make them come together into a finished ring.
Casting is a different process. In casting the ring is made in part or whole in wax first. That wax piece is placed into a flask of investment (like plaster) which hardens around it. That is then placed in a kiln which burns away the wax to leave a negative space in the exact shape of the wax. The casting process then injects molten metal into that negative space which creates a replica of the wax. The casting then needs to be finished into a ring. Since the wax burns away it can only be used once, hence the "lost wax" in the name of the process.
how to speak engagement ring: settings
Gemstones are set into variations of two basic types of setting: prong and bezel.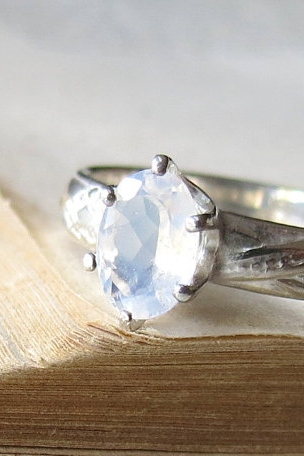 Prong settings have claws or fingers that hold the stone on usually 4 or 6 points into a basket. It allows the most light into a stone but it also exposes more of the stone to damage.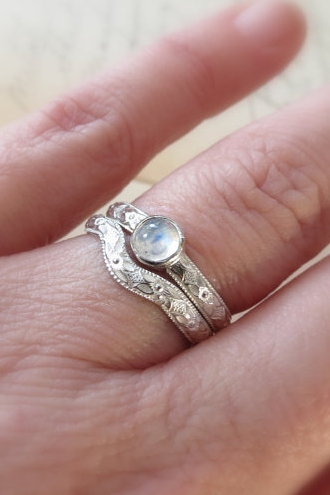 A bezel setting has the stone set with metal all around the girdle or edge of the gemstone. This can be either in a bezel setting that holds the stone, a gypsy setting where the stone is set directly into a piece of metal and the metal burnished over the edge.
Channel setting also is a type of bezel that hold gemstones in a line, usually used for side stones on an engagement ring or a anniversary band type look. A bezel setting is stronger and protects the stone more but it does not let as much light into the stone.
how to speak engagement ring: shapes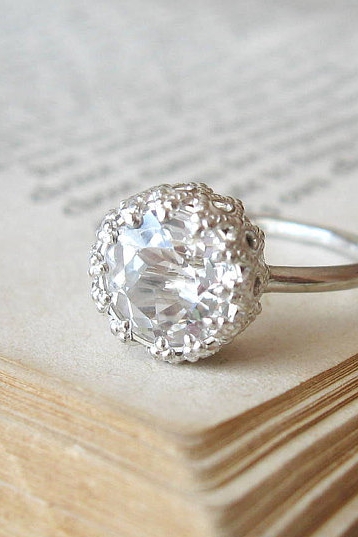 The most common gemstone shapes for an engagement ring is round for a diamond or oval for a colored gemstone.
Cutting the stones is always a balance between carat retention and beauty, and most of that depends on how it is shaped when it is pulled from the earth. The round and oval shapes allow for more of the stone to be used. The facets on the bottom and how well they are cut will determine how lively or "sparkly" a gemstone is.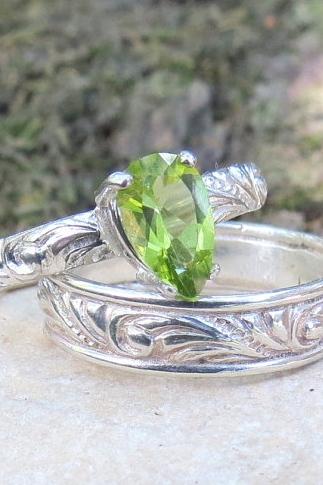 Square and Pear Shaped Stones
Squares and modified squares like cushions or asschers have become popular as they look modern, while a pear or marquise have become a more vintage look. These stone shapes take away more of the rough in cutting and will be more expensive because of that lost carat weight. The points on these stones can also be damaged more easily than a round stone. In diamond settings the points are usually covered to protect them. Because less of the rough gemstones are cut into these shapes, they are more unique.
Emerald cuts have the least amount of facets on the bottom and are cut in straight planes, therefore they show the inclusions in the gem the most, because of this a higher quality less included stone is used for this cut.
Pro definitions:
Carat–a unit of weight for precious stones and pearls, equivalent to 200 milligrams.
Inclusions–any material that is trapped inside a mineral during its formation.
Choosing the right ring
What advice would you give to someone on choosing the best ring for their style?
The best advice would be to talk to a jeweler who can guide you through the styles to find one that speaks to you. There are endless possibilities available. You don't have to have the conventional engagement ring anymore as it has become more and more the norm to have something completely personal.
Think out of the box and find a jeweler that can make that happen for you in whatever your price range. A knowledgeable jeweler can ask the right questions about your lifestyle and help find what is important and what will work best for you.
What tips can you offer on how to choose a wedding band to go with your engagement ring?
My first bit of advice is that it does not have to match, but it does have to fit well next to it. The trend in wedding bands is again being able to customize it to your tastes and have it be meaningful to you.
Bridal "sets" are not as common as they once were and more people are mis-matching their rings where even the two bands are different. When looking for a band, just be sure it sits well on your finger next to your engagement ring so it is comfortable to wear.
A custom band can be formed next to any ring, and lost wax casting is especially suited for this purpose. I would suggest going to someone who can customize your rings.
What is the biggest mistake you see people making when choosing an engagement ring?
That the ring sits too high off the finger with too small or not enough prongs. This is just waiting for damage to occur and the stone to be lost.
Also personally, I always suggest getting a better stone even if it has to be smaller than you would like. Having it in your head that you have to a have a benchmark size like a 1ct center for example, will exclude better stones that are .75ct and have a much better cut and color. Look for quality first then size, you will be happier with a sparkly smaller stone than a large dead stone with no fire.
additional tips
It's not just the guy's job anymore to pick out a ring. More and more couples are doing it together. Find someone whose work you love first then have them take some time with you to find something that is personal to you. You will be wearing this everyday for a long time. There are far too many options out there now to just get a plain engagement ring.
Congrats! Savor this time (and stay organized) with a free Guide to Engagement.